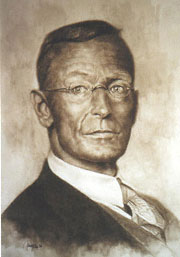 Born in 1877 in Calw, on the edge of the Black Forest, HERMANN HESSE was brought up in a missionary household where it was assumed that he would study for the ministry. Hesse's religious crisis (which is often recorded in his novels) led to his fleeing from the Maulbronn seminary in 1892, an unsuccessful cure by a well-known theologian and faith healer, and an attempted suicide. After being expelled from high school, he worked in bookshops for several years - a usual occupation for budding German authors.

His first novel, Peter Camenzind (1904), describes the early manhood of a writer who leaves his Swiss mountain village to encounter the world. This was followed by Beneath the Wheel (1906), the story of a gifted adolescent crushed by the brutal expectations of his father and teachers, a novel which was Hesse's personal attack on the educational system of his time.

World War I came as a terrific shock, and Hesse joined the pacifist Romain Rolland in antiwar activities--not only writing antiwar tracts and novels, but editing newspapers for German prisoners of war. During this period, Hesse's first marriage broke up (reflected or discussed outright in Knulp and Rosshalde), he studied the works of Freud, eventually underwent analysis with Jung, and was for a time a patient in a sanatorium.

In 1919 he moved permanently to Switzerland, and brought out Demian, which reflects his preoccupation with the workings of the subconscious and with psychoanalysis. The book was an enormous success, and made Hesse famous throughout Europe.

In 1922 he turned his attention to the East, which he had visited several times before the war, and wrote Siddhartha, the story of an Indian youth's long spiritual quest for the answer to the enigma of man's role on this earth. In 1927 he wrote Steppenwolf, the account of a man torn between his individualism and his attraction to bourgeois respectability, and his conflict between self-affirmation and self-destruction. In 1930 he published Narcissus and Goldmund, regarded as "Hesse's greatest novel" (The New York Times), dealing with the friendship between two medieval priests, one contented with his religion, the other a wanderer endlessly in search of peace and salvation.

The Journey to the East appeared in 1932, and there was no major work until 1943, when he brought out Magister Ludi, which won him the Nobel Prize in 1946. Until his death in 1962 he lived in seclusion in Montagnola, Switzerland.